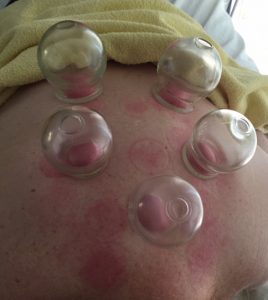 Cupping-the ancient Chinese healing and detoxing
February 25, 2020
Acupuncture for Athletic Performance
Athletes of all sports are embracing the advantages of acupuncture: loosens muscle tightness, quicker recovery time, aids healing from injuries, improves immunity, and reduces anxiety. Recently NFL players and Olympians were spotted in the media with round marks on their backs. This is also a traditional Chinese medicine technique called cupping. Cupping helps to reduce muscle tightness and helps detox the body of lactic acid build up. At Mirvana Acupuncture, we combine acupuncture with cupping to help ease muscles and get patients results quicker.
LOCKERROOM TALK: ACUPUNCTURE
ACUPUNCTURE RELAXES TIGHT MUSCLES.
Simply relaxing tight muscles can help with restricted range of motion brought on by shortened, tight, muscles. Stretching does not always resolve restoring optimal range of motion and overstressing joints can cause injury, pain, and eventually time-consuming rehabilitation. While acupuncture has a great ability to treat injuries, it is beneficial to use acupuncture to prevent injury before it happens.
ACUPUNCTURE RELIEVES PAIN.
The simple act of using sterilized needles at specific acupuncture points brings about pain relief. How? The sensory system signals to the brain to excrete pain-relieving chemicals such as, endorphins, norepinephrine, and encephalin which can be 10-100 times stronger than morphine.
ACUPUNCTURE INCREASES CIRCULATION.
Needle insertion increases the quantity of nitric oxide in the body, allowing circulation improvement to the heart, lungs, muscles, and beyond. Increased circulation equals increased oxygenation of cells, therefore allowing for an energetic athletic performance.
ACUPUNCTURE STIMULATES YOUR PARASYMPATHETIC NERVOUS SYSTEM.
STRESS. A small word that makes a BIG impact and affects everyone's lives. When you are playing sports….STRESS is the last thing you want to feel. We continuously tax our sympathetic nervous system and rarely give our parasympathetic nervous system a chance to carry out its functions. This can eventually result in adrenal exhaustion and can negatively affect organs, limiting your capacity to push your body to its physical limits. Acupuncture is a recovery therapy that encourages parasympathetic nervous system activity – a perfect addition to an athlete's rest day.
ACUPUNCTURE INCREASES MENTAL CLARITY AND FOCUS.
Individuals who receive acupuncture treatments have more vitality during the day, are able to relax quicker, and have better mental focus. As any competitor will tell you, mental clarity is an important component to athletic competitions. Acupuncture helps to stimulate blood flow to the brain, allowing the body to react without having peaks of extreme stress or in other words fight or flight response.
At Mirvana Acupuncture, Dr. Sonya Patel focuses on treating the patient with acupuncture to help the athlete perform better, recover quicker, prevent injuries, and have an overall sense of wellbeing. She treats patients from all ranges of sports from recreational to professional athletes.
Ready to try acupuncture yourself? Book an initial appointment with Mirvana Acupuncture today!